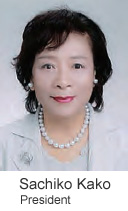 PASSION SPEED FUTURE
Toho Metal was established in March 1954 by Akira Kako starting of supplying the stainless steels to our valuable customers. While our business environment constantly changes we will be flexible and continue to raise competitiveness of our manufacturing bases by making better use of our existing facilities and exercising timely and planned replacement investment and will conduct as needed in the future. We also make efforts to improve the supply chain, work jointly with group companies, and build a strong network with local and overseas partners to become a global company.
I sincerely appreciate your continued support and cooperation.